Good morning! Today kicks off Park Avenue's 2nd Annual Amazing Reading Race! At the beginning of each unit, Park Avenue will send home a Family Fun Challenge. Each student who complete the challenge with their family and emails it to our our librarian will be receive a special reward. Please see the picture for more details.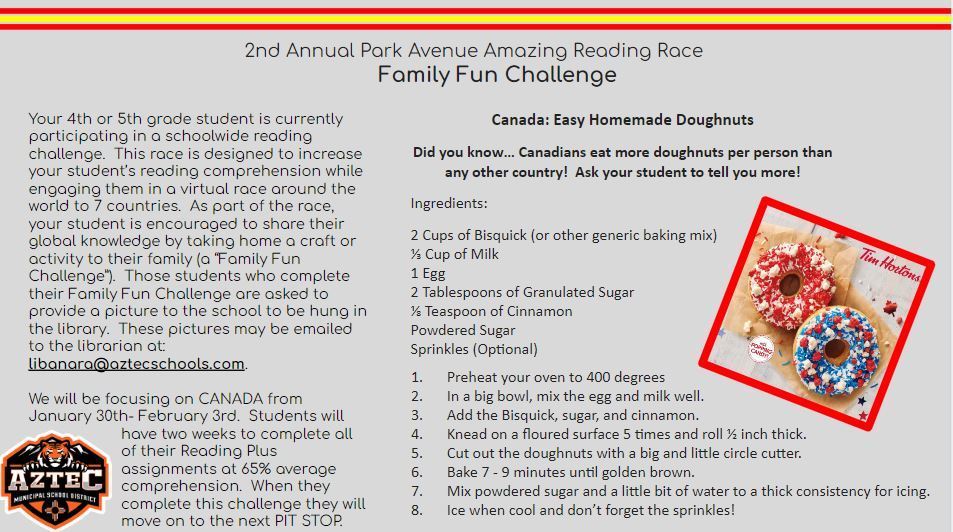 Kids Heart Challenge Our quest has begun! We have kicked off American Heart Association's KIDS HEART CHALLENGE. Students saw THIS VIDEO and learned that our campus goal is to have 100% of families learn hands-only CPR and raise $3,500.00 in donations to fight heart diseases and stroke! GET STARTED ON THE QUEST: Visit our school's Kids Heart Challenge page OR download the Kids Heart Challenge app to get started working on Finn's Mission. I'm sure students are eager to Be the Torch! This week Breeze's Quest is to get signed up! Students who are signed up by Monday will be entered into a drawing for a Large Squishmallow or a $50 Amazon Gift Certificate! Announcing Park Avenue's Challenges: -Every $100 you raise you get to color blast Coach Eighme! -AND, when you raise $50 you get a mystery gift and are invited ON COURT at a Denver Nuggets game!! -Raise $150 and earn a special Frankie keychain for being a leader in our school! If 50% of our school COMPLETES Finn's Mission, we will receive DOUBLE the givebacks to purchase new PE equipment!! Each week the top class will be awarded with 15 minutes of free choice time in PE! REGISTER HERE TODAY! Kids Heart Challenge is a tradition in schools across the country – SEE how the envelope/parent letter in your child's backpack helped save one father's life. Want to be Extraordinary? See how Kash brought Kids Heart Challenge to his whole family and got them thinking about how to be healthy and support his goal. Check back each week for great ideas from real-life kids or visit the WEBSITE for even more great stuff from great kids. _______________ ¡Nuestra búsqueda ha comenzado! Hemos lanzado el KIDS HEART CHALLENGE de la American Heart Association. Los estudiantes vieron ESTE VIDEO y aprendieron que la meta de nuestro campus es que el 100% de las familias aprendan RCP solo con las manos y recaudar $3,500.00 en donaciones para combatir las enfermedades cardíacas y los accidentes cerebrovasculares. EMPEZAR:Visite la página Kids Heart Challenge de nuestra escuela:
http://www2.heart.org/site/TR?fr_id=7560&pg=company&company_id=402495
o descargue la aplicación Kids Heart Challenge para comenzar a trabajar en la Misión de Finn. ¡Estoy seguro de que los estudiantes están ansiosos por ser la antorcha! ¡Esta semana Breeze's Quest es para inscribirse! ¡Los estudiantes que se inscriban antes del lunes participarán en un sorteo de un Squishmallow grande o un certificado de regalo de Amazon de $50! Kids Heart Challenge es una tradición en las escuelas de todo el país: VEA cómo el sobre/carta para padres en la mochila de su hijo ayudó a salvar la vida de un padre. ¿Quieres ser extraordinario? Vea cómo Kash trajo Kids Heart Challenge a toda su familia y los hizo pensar en cómo estar saludables y apoyar su meta. Vuelva a consultar cada semana para obtener ideas geniales de niños de la vida real o visite el SITIO WEB para ver aún más cosas geniales de niños geniales.


Dear Tiger Community, Due to current and forecasted weather conditions throughout the district, the Aztec Municipal School District will be conducting a remote learning day today. In this case, Park Avenue classes will be online only beginning at 8:00 am with a fifteen minute grace period for students, with some discretion. All students should check their Google classrooms at 8 am for a virtual class meeting and the schedule of activities for the day. The Specials schedule will be: 5th grade will host a Google Meet from 11:00-11:25 4th grade will host a Google Meet from 11:30-11:55. Please know that we will be flexible and if you cant get on we do understand. Stay safe and warm today.

Attention Park Avenue Families: Our lost and found is full! We have put all found jackets, water bottles, hats and more on the fence by the office. Please come and check for your student's items. We will take these items down by Friday 12/16.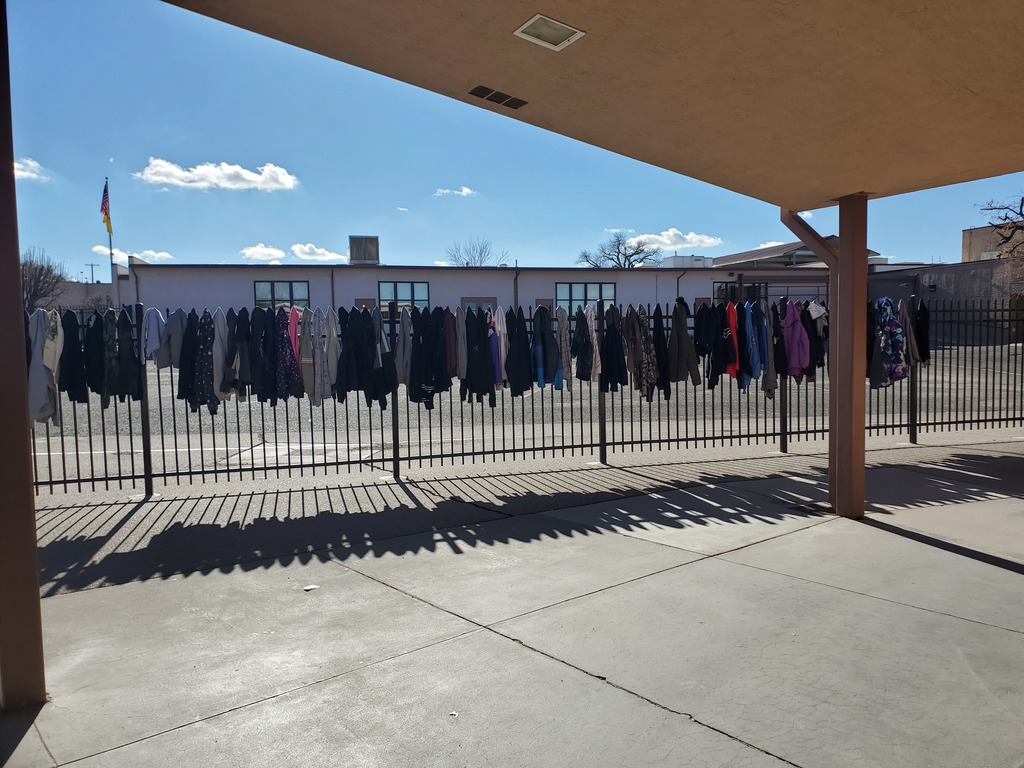 Important reminder: Park Avenue will be having a Family Literacy Night TONIGHT! 11/15/22 from 5-7 pm. We will have free dinner in the cafeteria and many awesome activities related to the education, agricultural sciences, and military science career pathways in the 100 building. There will be free prizes, a student performance, fun games, and the book fair will be open. Please come join us!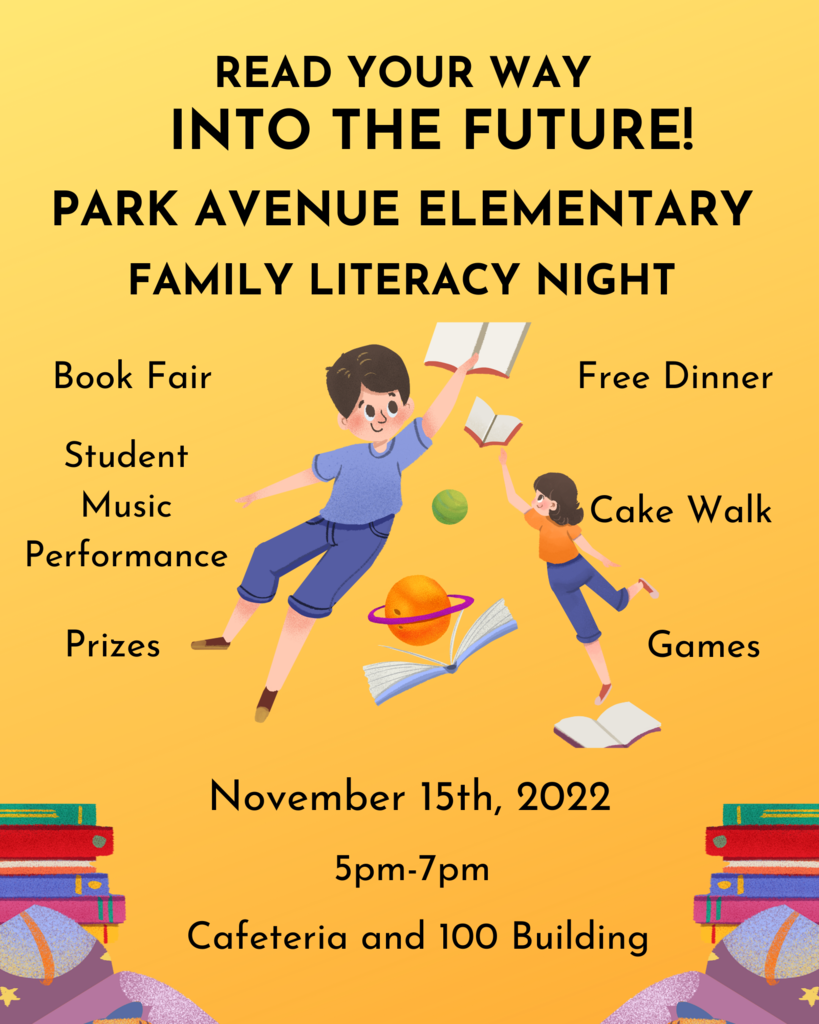 Big Brothers Big Sisters in San Juan County is looking for mentor volunteers. For more information please go to their website:
www.littlesneedbigs.org
.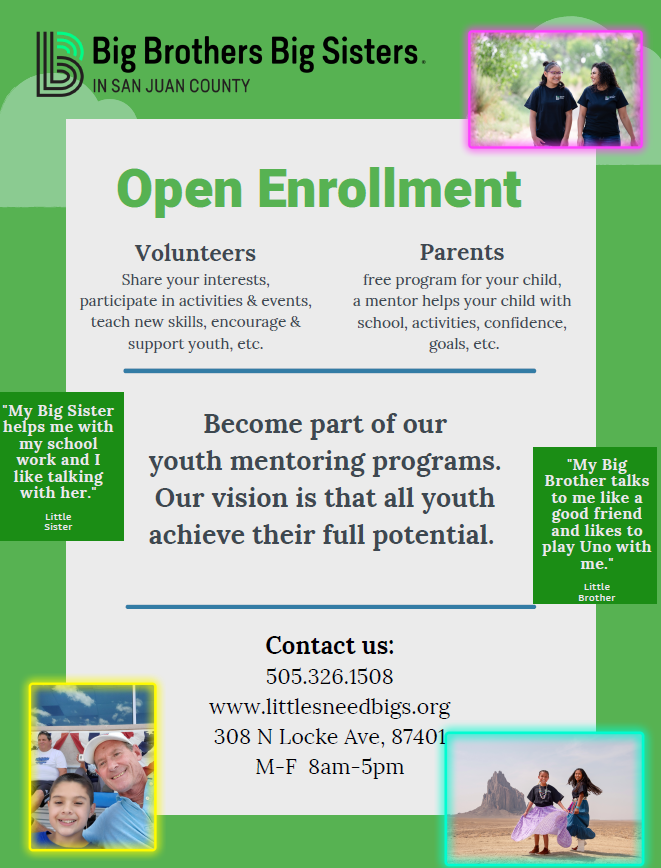 See picture for details about Park Avenue PTKO's Adopt a Staff Member Program

11/10/22 Thanksgiving Lunch Schedule (10:30-11:00 Harcrow, Rivera Sweet) (11:00-11:30 Johns, Lewis, Milam, Strauss, Warren) (11:30-12:00 Clark, Martinez, Moore, Quigley) (12:00-12:30 Magee, Perry, Strider) All cafeteria customers (Students and families) will enter in the 200 entrance in the Breezeway for ticketing purposes. Families will get a visitor's pass and pay as they enter the cafeteria.

Sign up now for the Aztec Boys & Girls Club winter "Basketball Instructional League." For more info please call: 505-334-8861.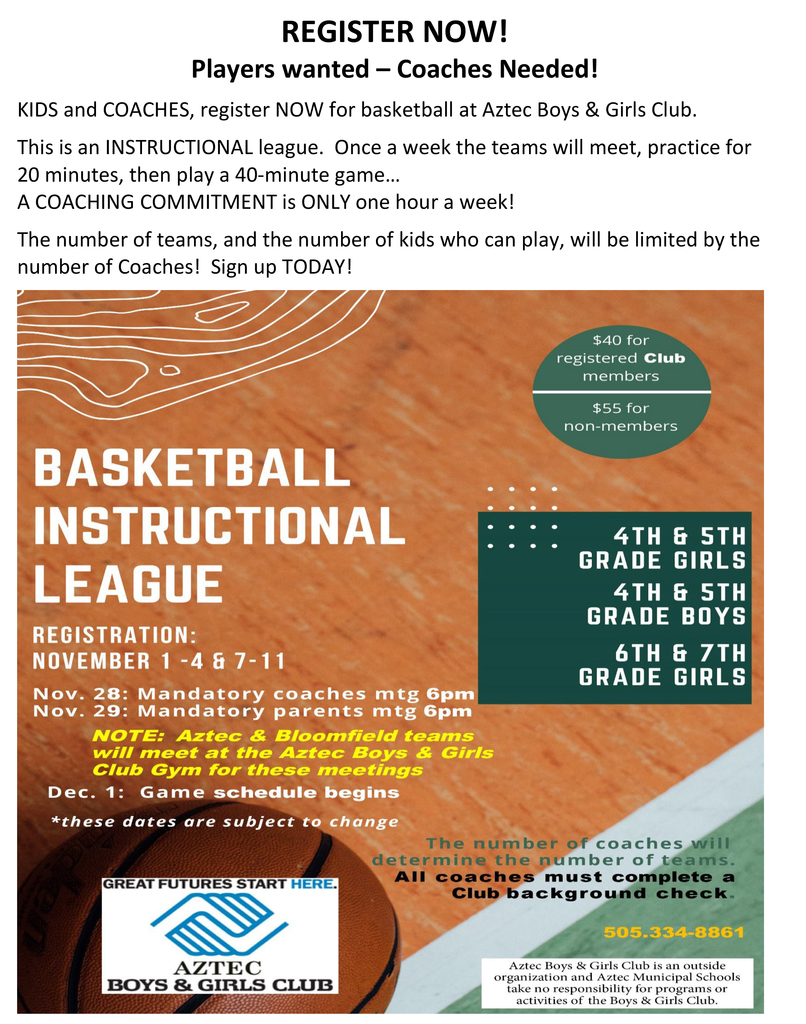 While it can be hard to predict the weather we do want to be prepared. In case of inclement weather please keep this important information in mind for Park Avenue: A snow day will be a Snow Day, there will be no online learning or assignments posted if it is a snow day. If it would have been a 2 hour delay in the past, we will now have a virtual learning day instead. In this case, classes will be online only beginning at 8:00 am with a fifteen minute grace period for students, with some discretion. All students should check their Google classrooms at 8 am for a virtual class meeting and the schedule of activities for the day. The Specials schedule will be: 5th grade will host a Google Meet from 11:00-11:25 4th grade will host a Google Meet from 11:30-11:55.

​Join us for Family Literacy Night on November 15th from 5 to 7 pm. See flyer for more details.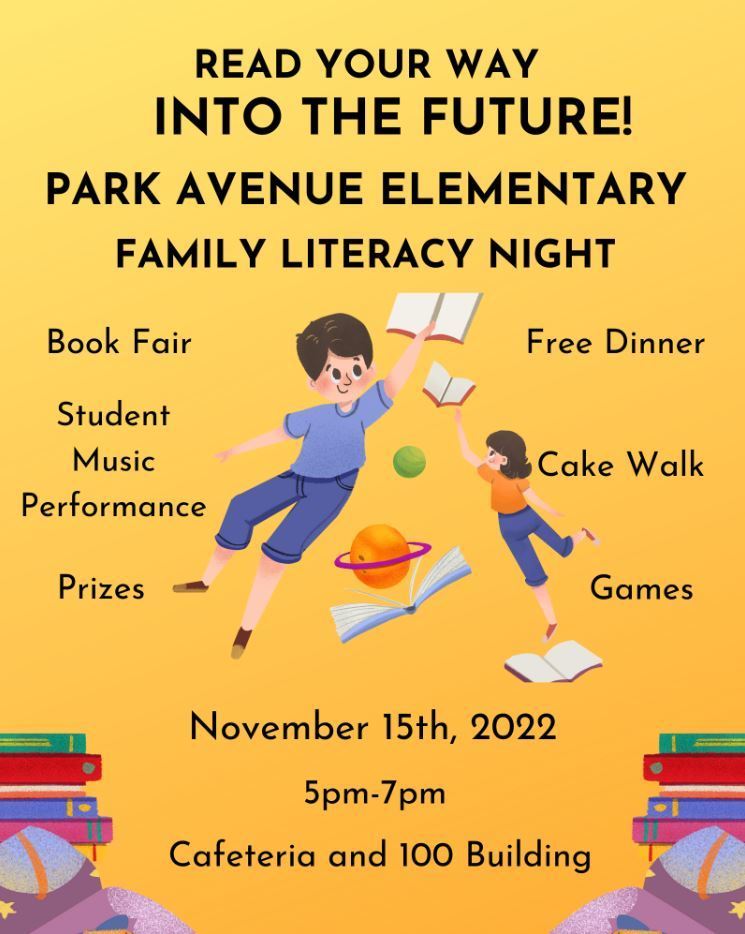 We have many activities going on this November and are so excited to have parents joining us at Park Avenue for all of the fun! Please remember that if you are planning on attending any in class parties or going on any field trips you do need to have a volunteer form in place. The only exception to this is for Thanksgiving Dinner and afterschool activities such as Family Literacy Night. Please come to the office to do a volunteer form. The turnaround for the application to be approved is usually 1-2 days. We can't wait to see you at Park Avenue!

Thanksgiving Luncheon - On November 10, 2022 our cafeteria will be serving a special luncheon to students and any families who have returned their RSVP. RSVPs were due by 10/28. Like all of our lunches this meal is free to students. Visiting family members will pay $4.00 at the door. Lunch times will be approximately: ● Harcrow, Rivera and Sweet's classes:10:55am-11:15am ● Johns's Class: 11:00am-11:25 ● Lewis, Milam, Strauss, and Warren's classes: 11:15am-11:35am ● Clark, Martinez, Moore, and Quigley's classes: 11:35am-11:55am ● Magee, Perry, and Strider's classes: 11:55am-12:15am Please note the lunch calendar states this will be on the 18th, that is not correct-Park Avenue's Thanksgiving Luncheon is on the 10th.


This week we would like send a BIG THANK YOU to our AMSD Custodial Team who keep our schools running smoothly, looking great, and always working to take care of both our students and staff. We appreciate all that you do for our Aztec Tiger Community!!!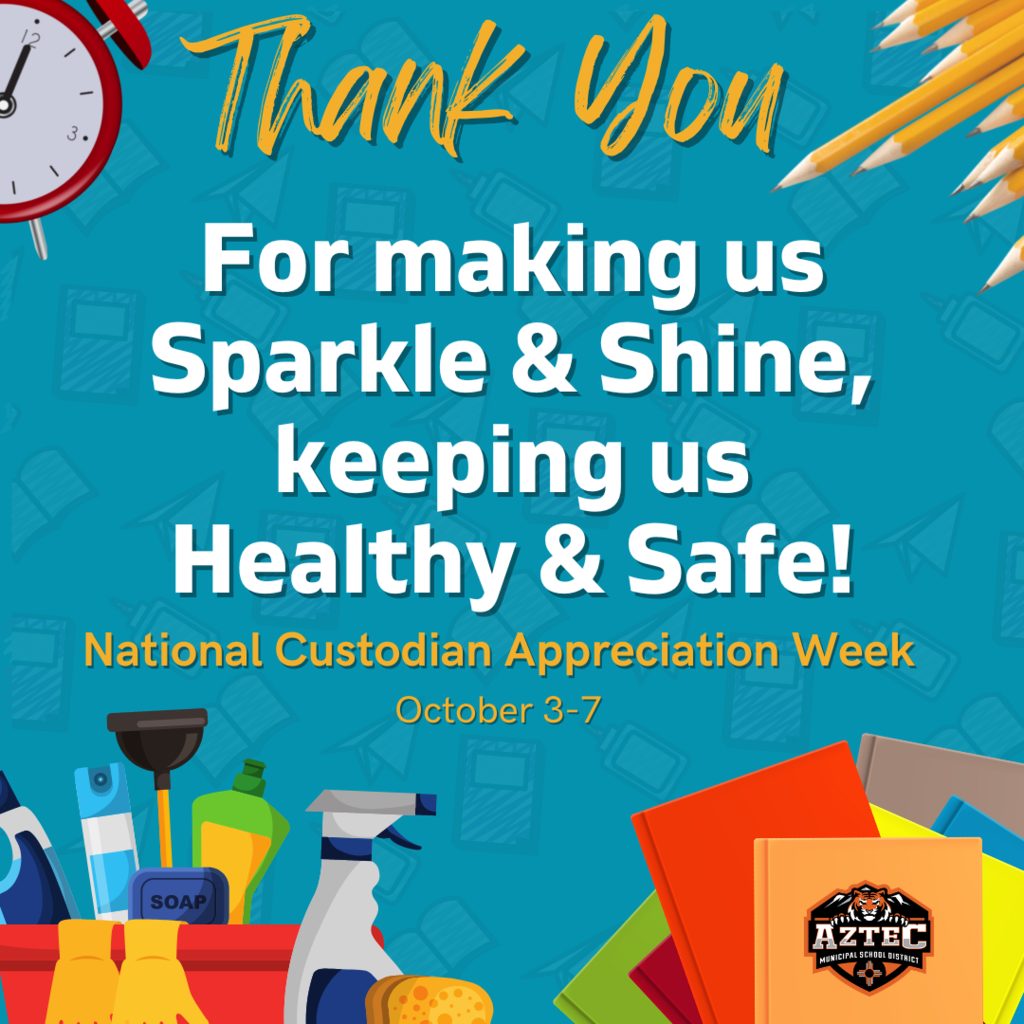 Halloween Costumes and Parties - We will allow costumes on Halloween and classes will be having parties in the afternoon. To keep everyone safe please make sure that students have no full face masks, there is no fake blood, and no real or fake weapons. Please follow the regular school dress code and let's keep it fun.

Parent Teacher Conferences are coming up! Conferences will be from 1:45 to 7 pm on Thursday 10/27 and 8 am to noon on Friday 10/28. Students will be released at 12:10 on Thursday and there will be no school on Friday. Teachers will send home details about conference sign up a couple of weeks before the actual conferences. Q1 Report Cards will be distributed at Conferences.

Our Parent Advisory Council (PAC) will now be a Parent Teacher Organization (PTO). PTO Projects in the works include a Gift Basket Raffle, Teacher Appreciation, and a Christmas Store for kids. We really need Parent Volunteers to make these things happen. Parents please come to our next meeting, the more helpers we have, the more we can spread out the work and time commitment. Our next PTO meeting will be Next Monday 10/10/22 at 3:15 pm in the cafeteria. If you can't make the meeting we'd still love your help volunteering and welcome your ideas. Please call the school office and ask Alexis for any questions.

Join us in celebrating Aztec Homecoming Week - Oct 10th - 14th. See flyer for more details.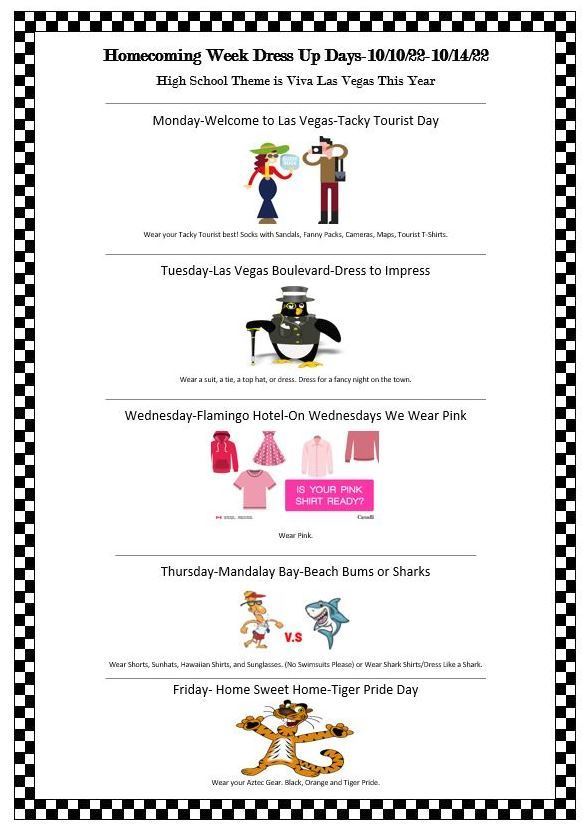 Start With Hello - Join us September 19th - 23rd in promoting kindness and friendship with dress up days. See the flyer for more information.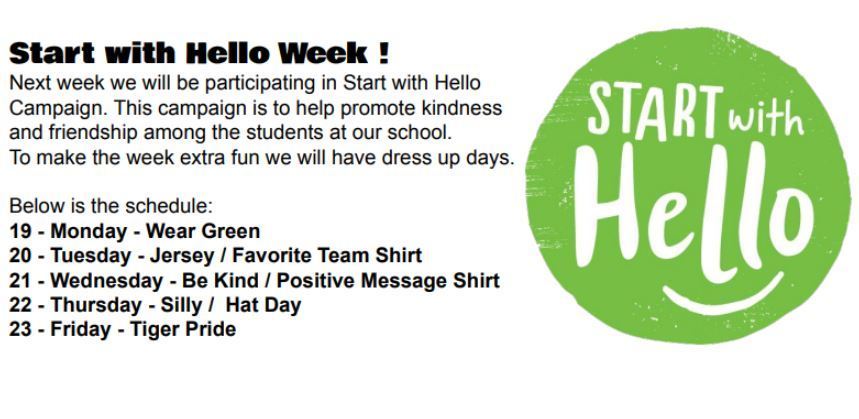 School Pictures are tomorrow! There is no packet ahead of time. All ordering is done online after the pictures have been taken. Please see flier for more information.